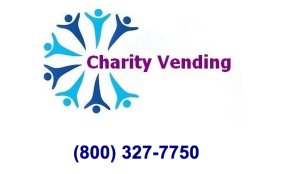 Vending Outreach Program for Missing Children
Please click here to download the vending outreach form.
The best vending outreach for non-profits. Click here to view our vending outreach form. Please contact Mark Miller for more information, or call
(724) 537-6970.
Please call before filling out and sending in the form.
Vending Boxes; Honor Box Vending Routes
Box designed for placement near cash register on retail counters (7.8 inch cube).
3 different sized candy compartments to adjust for preferences or manage margins.
Rugged enough to withstand a 3 foot drop with little or no damage (repairable with glue).
Clear, acrylic top and front display candy. White sides and back block sunlight to minimize chocolate damage.
Permanent, professional, bilingual labels and locking cash box.
Pouch provided on back of box to display AAFLC brochures.
$49 each, $39 for 10 or more, $35 for 100 or more. Shipping material and shipping charges (UPS) will be added to order.
Contact Tosshers Vending at 916-549-1400.
Thank you so much. The proceeds from the vending have been instrumental, enabling AAFLC to find and rescue more missing children.