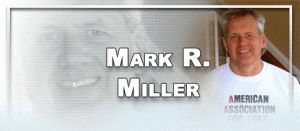 Mark R. Miller, son of Russell and Irene Miller from Latrobe, Pennsylvania graduated from Saint Vincent College in 1981 with a Bachelor of Science Degree in Business Management. In 1982 he moved to Texas and gained work experience in a variety of different fields of business. He was successful in many challenges in the world of business beginning in the mobile home industry. He also worked briefly as a stockbroker and then became an entrepreneur, but his heart was elsewhere. He came across a missing child's flyer at a grocery store and was driven to find out more information about this situation. After doing research, he found that missing children's groups served as resource centers. They did not physically search for missing children; something needed to be done to fill that void. He decided to help missing children and make a difference; and that's how he began touching the lives of so many by searching for and rescuing missing children.
In 1987, he founded a missing children's charity called the American Association for Lost Children or AAFLC, which would literally search for missing children by doing hands-on investigations at no cost to the parents, operating on tax-deductable donations. This was a major revolutionary idea.
Although the idea was revolutionary, the process of starting a charity without former experience was very, very difficult. One of the hardest things to do was to let the public know that the organization actually existed and to get them to believe in the dream of AAFLC. Hardly anyone knew about the organization, without a track record. This meant that in the beginning, Mark had to use his life savings to fund the charity. The process of getting the name out to the public and before the parents of missing children was a long and slow process. It didn't happen overnight.
As Mark's personal funds were diminishing, AAFLC literally begged for donations on the streets, had numerous car washes and sold M&Ms at grocery stores and intersections. Over a time period of three years, AAFLC sold an estimated 55,000 boxes of M&Ms.
Struggling to pay monthly office rent, gas, telephone, utilities, and struggling to raise funds to finance the investigation of cases, such as rent-a-car fees, airfare, hotel expense, gas, and food AAFLC encountered serious financial difficulty, and could not even afford to pay Mark a small salary. During these difficult times, Mark had to surrender his car since he did not have money to make payments. For more than two years he slept on the floor where the AAFLC was housed. He believed that as we found more missing children, someone would recognize the organization's needs, and come to our rescue.
Finally, with perseverance, people saw the determination and faith as more missing children were rescued by AAFLC. With additional media coverage, the number of volunteers increased. When people realized the unselfishness of AAFLC's mission, they were more than willing to help. With your continuous help and support, AAFLC will be able to find and rescue more missing children. Thank you so much and God bless you.